PLEASE NOTE WE ARE NOW ONLY COMMENCING WITH EXTERIOR WORK AGAIN IN THE SPRING,WE CAN HOWEVER SUBMIT PRICING AND TAKE INQUIRIES,THANKS
Victorian Creations specialize in the supply, installation and restoration of authentic geometric Victorian floor tiles. We also supply and fit York stone steps and undertake small to medium sized front garden projects including landscaping, paving, slabbing and brick walls etc.
We are based in Hertfordshire but spend most of our time in North and NW London
WHY US? When you contact us for a Victorian Pathway, Hallway or restoration you can be assured that we are one of the best around and we value the quality of the project above anything else. Although we are as good as anyone in this game we often take longer than others as we spend more time getting your job perfect! Please see what our customers have said about us on our Google reviews page
Complex geometric designs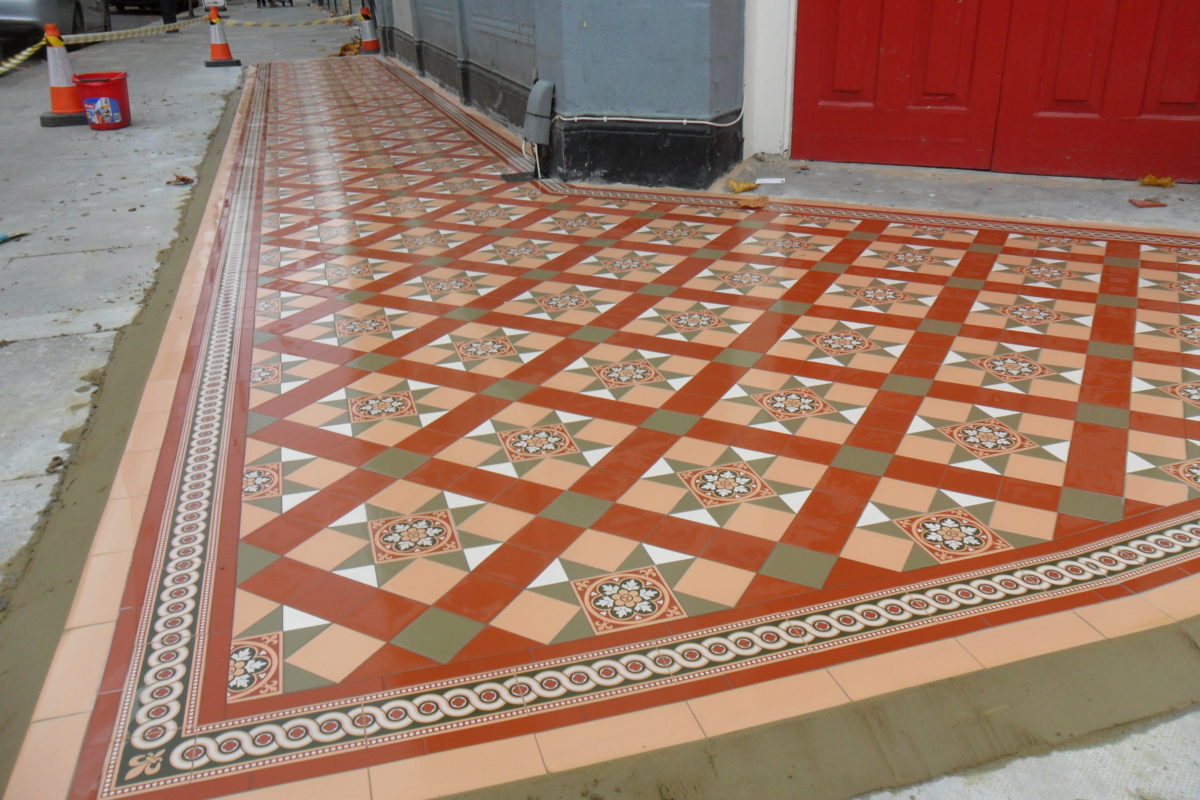 We supply Victorian tiles for both our jobs and clients that wish to purchase the tiles alone. Please get in touch with your requirements, or go to Original Style , choose a pattern or find one on this site and contact us with the details 07792508073 / victorianprojects@gmail.com. Or send us a message on Facebook
New Victorian tiling
We are very experienced in all the different Victorian tiling designs and the creation of perfect floors to receive these tiles. We can install new concrete bases where existing ones are no good and we do not allow a visible grout line with our installations. This means that they will look exactly like the authentic ones except as perfect as the day they where installed a 100 years ago! We also tend to be quite competitively priced as well.
Restorations
We are experienced restorers of Victorian Encaustic tessellated floor tiles, and really take pride in bringing these old floors back to life. It takes quite a bit of patience and know how to competently restore these floors and you can be sure your project is in good hands!
We are able to best advise you on your tiling restoration a can offer you advice and information required for your decision.
York Stone Steps
We can have bespoke York Stone and Lime stone made and install front door steps and (pavement to pathway) threshold steps. We supply and fit any bespoke stone elements so just try us.
York Stone steps are a very authentic part of the front Victorian garden and in most cases we find some old York (Sandstone) present. We think you will be very happy with new stone and it really does compliment the tiling well.
Front Garden Projects
We undertake entire front garden projects from time to time. This includes slab work, paving, garden features, landscaping etc.
Get in touch with your ideas.