We are professional installers of Brick Slips in London & Hertfordshire
Brick slips seem to be getting more and more popular with many architects and developers turning to this option when councils decide new extensions need to blend in with the brick built surroundings. They also get used allot on feature walls inside houses. Although we specialize in the Victorian tiling we undertake allot of brick slip installations and can offer a professional finish and quality service. Please scroll down for more pics of this job which used (Old London Brick Slips)
Brick Slips to blend a new extension into the surrounding buildings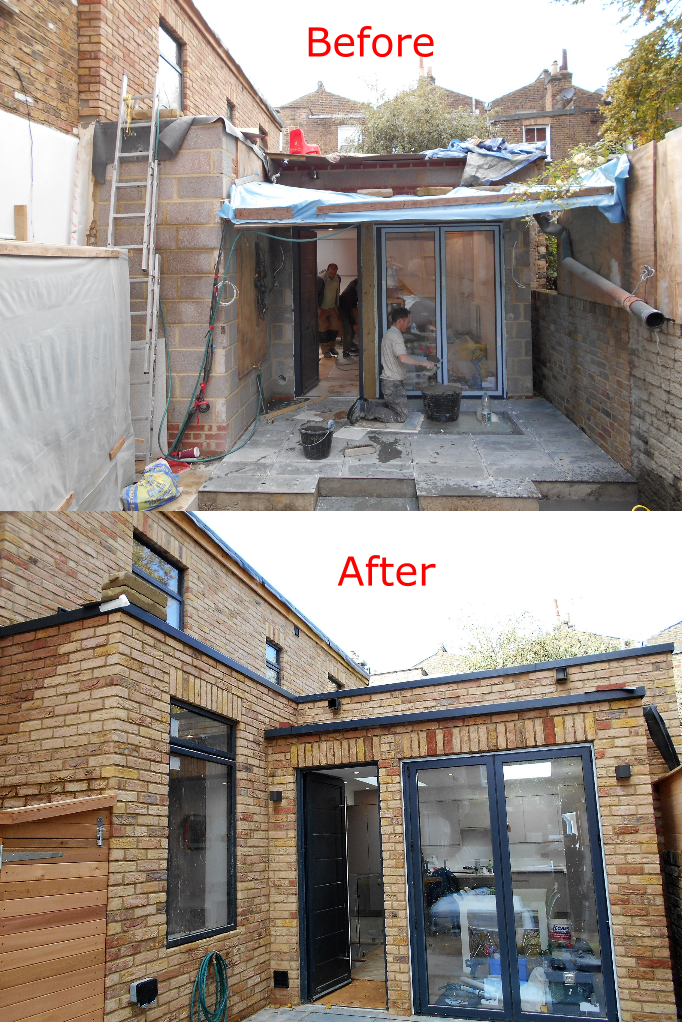 In this case they do a fantastic job as they can take a horrible block built extension and transform it into something amazing!
Whats more is that this work can be done at the end of the project once all the building work is out of the way.
Brick slips on this project absolutely made the look of this high end development in West London.
Why use a professional for Brick Slip installation
POINTING – Pointing is a big part of the installation and can ruin it if not done properly. From experience we know that pointing is beyond the skill of tilers and needs to be done by a bricklayer or a company like us with experience.
LONGEVITY-Brick slips are a fantastic solution however they are essentially tiles and so longevity needs to be an absolute priority. Bricks last for hundreds of years whilst we all know tiles come loose with poor installation. It takes many years in the game to develop the tricks and technical knowledge to ensure work is going to stand the test of time. (Our work wont fail)
THE LOOK- Brick slips are a tricky thing to install as they have both aspects of bricklaying and tiling. One has to understand the rules of both to create a seamless installation that looks like it was meant to be there. The only solution for this is experience. There are mistakes to be made by any new installer and its best they have already made them before they get to your job.
CLEANLINESS – Brickslips are very porous and the high performance tiling adhesives used will stain them in an instant. Pointing also is a concern for staining the face of the brick slips. These brickslips can get expensive and it takes many years in the game to be a clean installer so be sure to verify your installer before they waste your money.