The pathway below cost £550 for tiles and then the York Stone step was £260. It was fairly cheap to install on account of the speed due to the basic border and the larger tiles
You can change any tile to many different colours in this design, it just so happens that this client fancied these three colours.
Give us a call for your tiles or Stone, and we are sometimes able to come and measure up for you as well. We also do a professional screeding service to flatten floors for your tiler if we are not doing the job. (Please scroll down for more of this design and some information on it as well)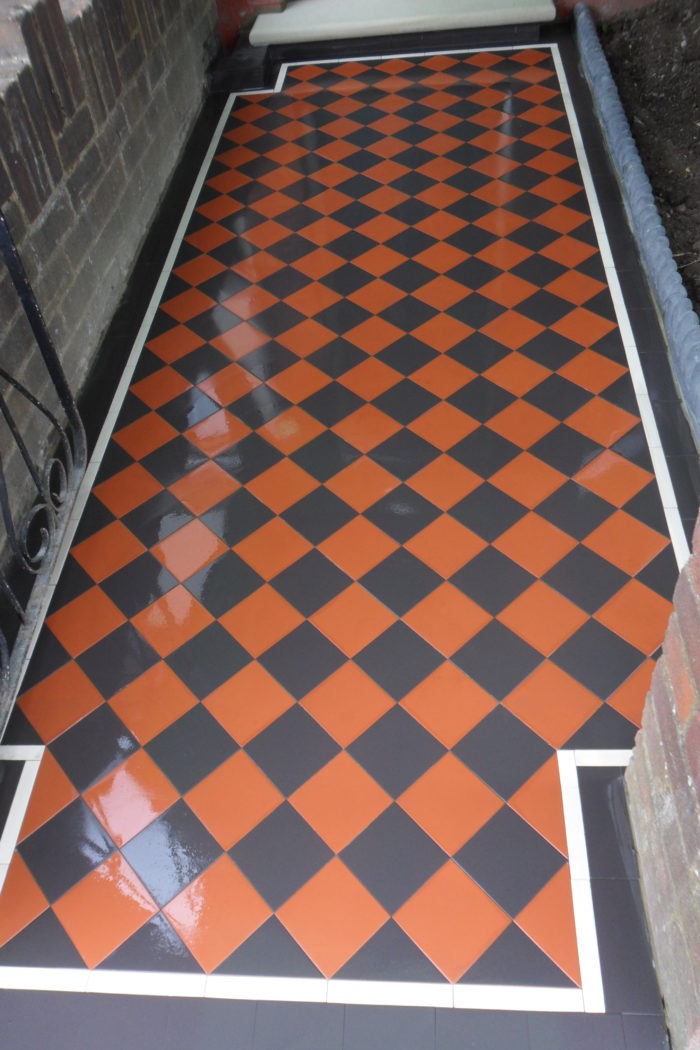 We also supply and fit York stone, however call us for a quote for just the stone alone.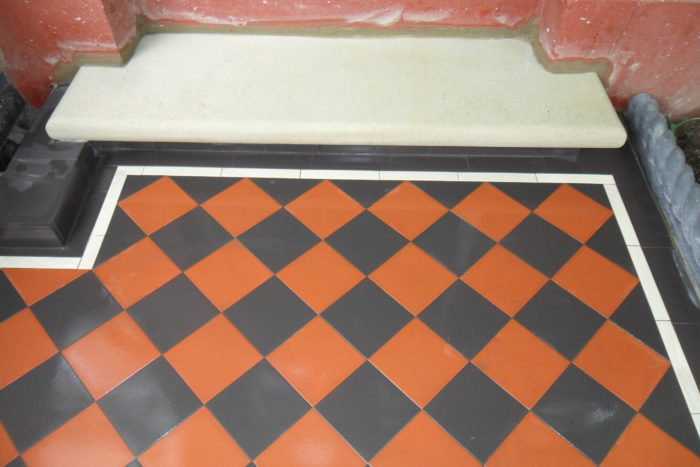 Red and Black Victorian tile design explained
Some clients like a bit of background on a particular design before deciding on it so we will add our two cents on our experience with this basic design.
We have installed this tile design in properties so far that have been of the less "in your face" type Victorian property. We often find that these properties originally had standard red quarry tiles on the pathway and sometimes in the hallway. We also sometimes find a more complex geometric design on the porch area alone. This design does a very good job in fusing the old with the new and at the same time adds a bit more of a feature to the tiling or pathway.
The red in this design is the same as the standard and widely used quarry tiles of the Victorian and Edwardian era and this red is what ties the design in authentically. The additional colours add the " niceness" to the geometric tiling by creating contrast and showing off the design. The red by itself would not do this so we always recommend at least 2 colours.
In summary we really appreciate the simplicity of this style and they are very cheap in comparison to some of the other designs. So cheap in fact that our clients have money left over for the York stone step 🙂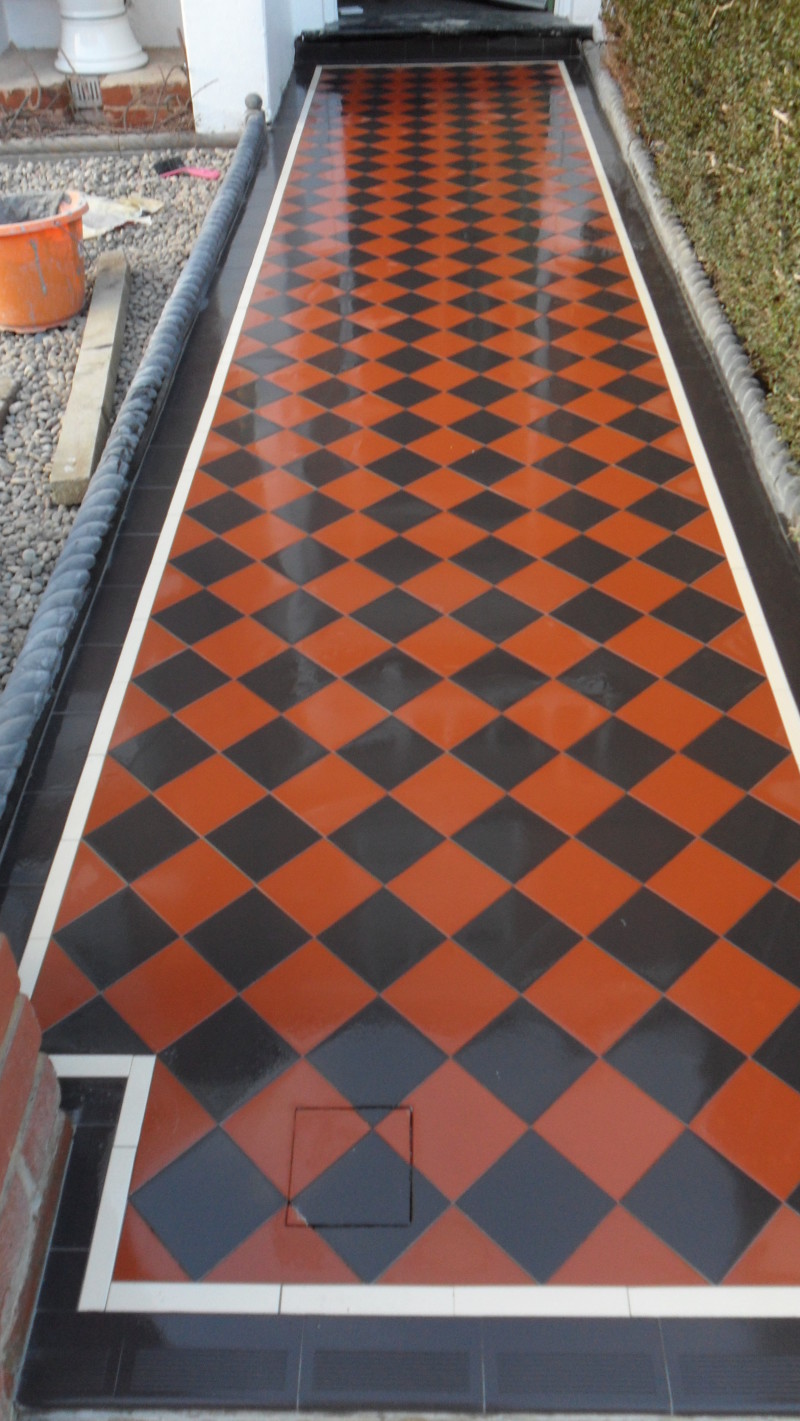 This pathway was quite long and so the tiles came in at £700. This installation was quite quick and so it is still cost effective compared to other Victorian tile designs.
This one was undertaken in Barnet and the double rope edging borders it off quite nicely.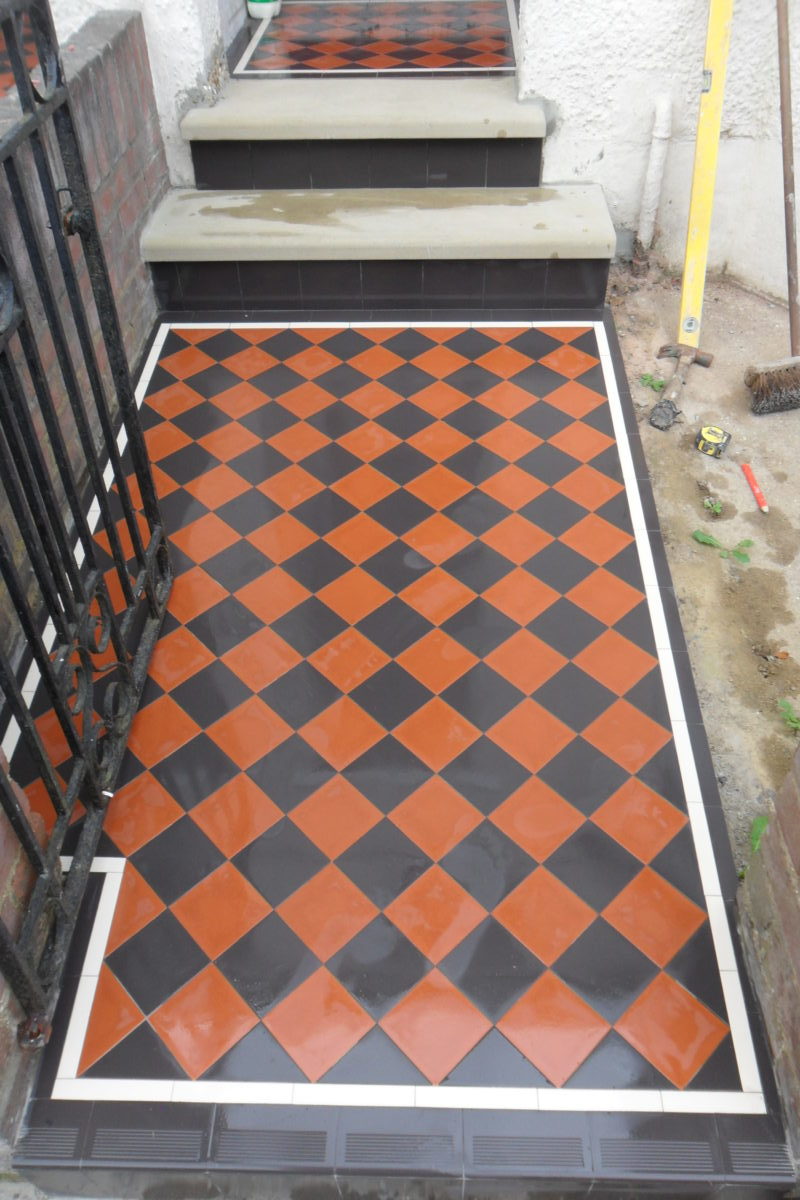 The tiles for this design were £550, and the York stone cost £380. Please note the York stone steps have a " half round bull-nose" and the full round bull-nose costs more to have made up on account of more work to make it. The pathway at the top of this page features a full round bull-nose.